You already know that smoking can pose a severe threat to your health. It can damage your lungs and heart, as well as areas you might not think about, like your sinuses. The good news is research has shown that quitting smoking can help improve sinus symptoms.
Sinus Problems Made Worse by Smoking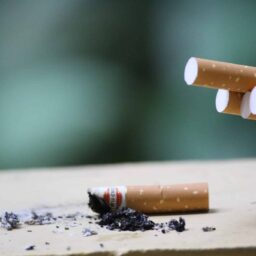 Just like your lungs, your sinuses are lined with hair-like structures known as cilia. Cilia help to protect your sinuses from bacteria, airborne particulates and too much mucus. Smoking can damage the cilia, leaving you more vulnerable to infections and causing mucus to build in the sinuses.
Research has shown that cigarette smoke, including second-hand smoke, can contribute to the development of chronic rhinosinusitis (CRS). CRS is a term for a chronic sinus infection lasting longer than 12 weeks. Symptoms can include nasal congestion, facial pressure or pain, thick nasal discharge and headaches.
Smokers are also more likely to have obstructive sleep apnea (OSA) than people who have never smoked. This is because smoking inflames the sinuses and upper airways, making it more difficult to breathe through your nose.
Smoking can also dull your senses of taste and smell. Though it may not seem like a serious side effect, a lack of smell and taste can lessen the enjoyment of home-cooked meals or a delicious pastry at Village Baker.
Lastly, and most critically, prolonged smoking can increase your risk of developing nose and sinus cancers.
Quitting Smoking Will Benefit Your Sinuses
If you are a smoker, quitting smoking can help to clear up any sinus issues you may have. A study published in 2017 followed former smokers and non-smokers and measured their sinus symptoms. While former smokers had more sinus issues than non-smokers, the results also showed that former smokers showed continued improvement in their sinus symptoms every year since they quit smoking.
Seeking Help for Sinus Problems
If you continue to experience sinus problems after you quit smoking or have never smoked but have chronic sinus issues that are impacting your life, make an appointment with an ENT specialist. They can examine your sinuses, run necessary testing to help determine what's causing your sinus problems and find the proper treatment to get you feeling your best.
To learn more or to schedule an appointment, call South Valley Ear Nose & Throat today.