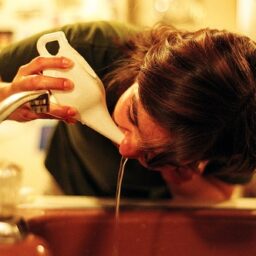 You can feel a sinus infection as soon as it hits … pressure, discomfort and misery. Even thinking about one might make your teeth ache. Treatments for sinus infections range from antibiotics to surgery. But now there is also a traditional remedy that's getting more attention after recent research shows it to have promise … the neti pot.
The neti pot is a ceramic or plastic container that looks like Aladdin's magic lamp. People use it to flush out their nasal cavities with a saline rinse (nasal irrigation). Recent research has shown it may work to reduce symptoms of sinus infections, and to relieve associated headaches. It also helped people use fewer over-the-counter medications. Doctors say nasal irrigation is worth trying if you suffer from persistent or recurring sinus infections … but be warned … it feels weird. The sensation of having water in your nose makes some people feel a bit claustrophobic until they master the technique.
How Do You Use a Neti Pot?
There aren't any official medical guidelines, but Neti pots usually come with an insert that explains how to use them. You can also make an appointment with our doctors to talk you through the process before trying it on your own. Here are few tips:
Use distilled water for safety, rather than tap.
Add a saline solution (that comes pre-measured with your kit).
Bring the water to room temperature before using it, so it's lukewarm to the touch.
Tip your head over a sink. The fluid should flow through your nasal cavity and out the opposite nostril.
There's no need to fire hose your nose. It's the volume of the fluid that's cleaning out your sinuses, not the pressure.
When you start, hold your breath so you don't shoot water into your airway.
Expect to make a mess. It's a sign you are doing it right.
When you are done, gently blow your nose to get rid of any remaining liquid.
Clean your device after each use and allow it to air dry. Clean it regularly with soap and water to prevent bacterial growth, and replace it every few months.
For any patient seeking to reduce sinus infection symptoms, experts advise sticking with nasal irrigation for long enough to determine if it's effective – even if it feels a little weird at first. If nasal rinses aren't working, it will be important to speak with our specialists to determine if you have sinusitis, or perhaps another related issue instead.
The neti pot is generally safe to use. About 10% of regular users experience mild side effects, such as nasal irritation and stinging. Reducing the amount of salt in the solution, adjusting the frequency of Neti pot use, and changing the temperature of the water reduces side effects. Neti pots are available over-the-counter at many drug stores, health food stores, and online retailers. They usually cost between $10 and $20.