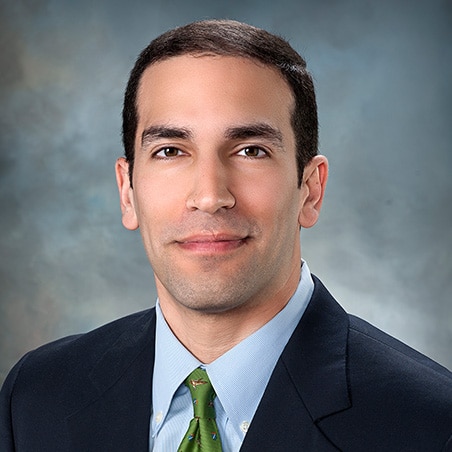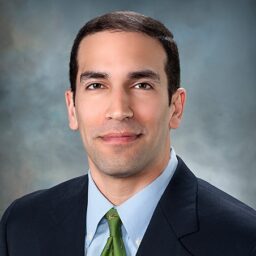 Dr. Amir Allak is a doctor who believes in the whole person. His passion for science and talent for connecting with people led him to his career path … and have allowed him to be the kind of person who understands and connects with patients on a deeper level.
How did you first become interested in facial plastic and reconstructive surgery?
Dr. Allak: I've always loved both science and people, and medicine was the best crossroads between those two things. Some are drawn to the practice of surgery because it is so focused on a single objective, but the reason I love practicing ENT is because I get the opportunity to see who a person is … even during surgery. By looking at a person's face, I never forget who they are. It is easy for some to reduce a patient to a statistic. I prefer to know more about them … maybe they are a mom, a teacher, someone who likes to sing, someone who reads mysteries. It's much more personal, and something I really value.
Dr. Allak brings a strong background in both his education and practice. He attended medical school at the historic University of Virginia and went on to train extensively with a world-renowned expert in Facial Plastic and Reconstructive Surgery, Dr. Jonathan Sykes at the University of California, Davis. Through these experiences, Dr. Allak not only refined exceptional technical skill, but honed a strong person-centered philosophy about the practice of medicine. In addition to being board certified by the American Board of Otolaryngology and treating general ENT disorders, Dr. Allak brings to the group a specialty expertise in cosmetic and functional facial plastic and reconstructive surgery.
What are your strengths as a surgeon?
Dr. Allak: There is a certain amount of technical ability that every good surgeon simply has to develop. Once you have those skills down, some may think that is enough. But there is more … interactions with patients are the discriminating factor between an enriching experience, and a mediocre one. My ability to explain procedures, allay fears, educate, break down stigmas, are what sets me apart. The basic technical ability is something you can expect from every good surgeon, but the interpersonal aspect is the real test … and enhances every other part of the experience for the patient and me alike.
When it comes to his medical approach, Dr. Allak believes that solid communication between doctor and patient is the key. He says that giving patients time to communicate, understanding expectations, and then really listening to what they have to say, makes him a better doctor.
How do you empower people to make decisions that are right for them?
Dr. Allak: Ultimately, the decision to have elective cosmetic surgery or procedures is a very personal choice. The way I see it, people work hard for their money, and it is up to him or her to decide how to use those resources to bring happiness to their life without judgment for deciding how best to navigate that path.
As far as empowering patients, it is really less about what I do, and more about what I can understand from each person that makes for a better experience. It's about listening … absorbing and learning from each interaction. I want to understand what your goals and expectations are and tailor my approach to meet your needs. Every person is unique … in what they want, in how they think. No two surgeries are the same because no two people are the same. I work to match my skills to what each person desires out of the experience. This allows me to apply my skillset to enhance the overall service to the next level.
With his education, skills and experience, Dr. Allak could have gone almost anywhere … but he chose South Valley ENT for his practice. It's a good fit, he says, and he already feels at home here.
Why did you choose South Valley ENT?
Dr. Allak: The doctors at here share a philosophy that I believe in … that people come first. There is a positive energy in this practice – you can see it on the faces of people as they leave their appointments. There is a level of trust, expertise, and caring. I know that each of the doctors here actually cares about their patients, and each one goes about their craft with that sort of empathy and nurturing attitude. It makes for a seamless interaction when we collaborate knowing that we all hold these principles as top priorities.
Dr. Allak brings to South Valley ENT a special expertise in cosmetic and functional surgery of the face. This includes cosmetic rhinoplasty, functional nasal surgery (for nasal breathing), eyelid rejuvenation, aging face surgery (facelift, necklift, browlift, etc.), reconstruction after Mohs skin cancer surgery, facial trauma surgery, as well as non-surgical facial rejuvenation (botox, fillers, etc.) and others.