If you or your child suffers from severe allergies your doctor will likely prescribe an EpiPen or other epinephrine injector in case of anaphylaxis. It's essential for you to know the proper way to store and administer your EpiPen in case of a life-threatening emergency.
Signs of Anaphylaxis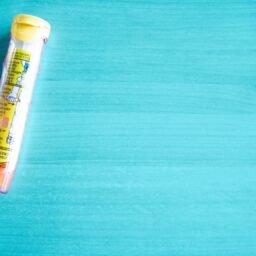 Anaphylaxis is a severe allergic reaction that constricts the airways. It can be fatal if it's not treated immediately. Signs of anaphylaxis include:
Hives or flushed skin
Dizziness and/or fainting
Wheezing
Trouble breathing
Swollen tongue or throat
Rapid pulse
Low blood pressure
The best way to prevent anaphylaxis is to avoid any known triggers. Depending on your allergy type, this may mean avoiding certain medications or being mindful of ingredients when you're out to eat at Tea Rose Diner.
However, accidental exposures can happen. It's also possible to have a more severe reaction to an allergen that only caused mild to moderate symptoms in the past. This is why it's important to learn how to use an epinephrine injector.
Learn to Use
When your doctor prescribes your EpiPen they will go over how to use it with you. Don't be embarrassed to ask any questions if there's something you don't understand. Your prescription will also come with instructions that we recommend you read over as well.
Your medicine should come with an autoinjector trainer for you to practice with first so that you feel more prepared in case of an actual emergency.
During a Reaction
If you or your child is exhibiting symptoms of anaphylaxis, take the following steps:
Remove the EpiPen from its container.
Remove the gray safety cap from the back of the pen. It will not work with the safety cap still on.
Inject the epinephrine under the skin or into the muscle of the outer thigh only. If you inject the medication into a vein or any other part of the body, it will increase your risk of serious side effects. You can inject the pen through your clothing.
If you are using an EpiPen on your child, hold their leg in place and try to limit their movement before and during the injection.
After the dose is fully administered, call 911.
Safely and properly discard the EpiPen by placing it back in its original container before throwing it away.
Storage Tips
Carry your pen with you at all times
Check kits regularly to make sure the liquid they contain is clear and colorless. If it's not, do not use the injector.
Store your injection kits at room temperature away from any heat, moisture or direct light.
If you have additional questions about using an EpiPen or wish to schedule an appointment with an expert allergist, contact South Valley Ear Nose & Throat today.