As much as you might love the holidays, having hearing loss can make all the social gatherings and big events more stressful. Thankfully, by being proactive with your hearing health and following a few tips on making communication easier, you can sit back and enjoy the holidays worry-free.
Prioritize Your Hearing Health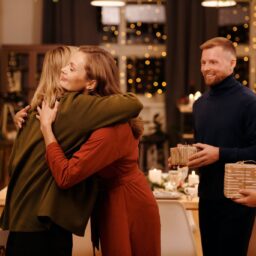 If you have hearing loss, make sure you do the following to prioritize your hearing health:
Tips for Socializing During the Holidays
Communicate your needs. While it's common to feel frustrated or embarrassed when you are struggling to follow a conversation, it's best to be open with the people you are talking to. Know that it's OK if you need to ask them to repeat or rephrase something. You can also ask that they face you directly when speaking and not cover their mouths so that you can better make out what they are saying.
If you are attending a sit-down dinner, try to get a spot in the middle of the table so you can see everyone. Also try sitting away from any louder areas like the kitchen or the stereo if music is being played.
Remember that not every holiday get-together needs to be at a loud venue with a lot of people. Taking a winter stroll through Willow Pond Loop with one or two friends or family members is a great way to spend quality time together.
If Your Holiday Gatherings are Virtual This Year
Unfortunately, COVID-19 is still making it impossible for some to travel this holiday season. If you are having virtual get-togethers you can use these tips to make them go smoother.
Enable real-time captioning options if your platform supports it.
Use a speech-to-text app to create your own captions.
Ask that everyone take their turns speaking to eliminate crosstalk. This makes it easier to hear what is being said and helps you avoid missing out on your loved ones' updates.
If you have any additional questions or need to make an appointment with one of our hearing specialists, contact South Valley Ear, Nose & Throat today.