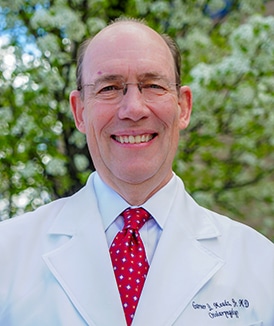 Garner B. Meads, Jr., MD
Retired Otolaryngologist
September 17, 2021
To My Patients,
As of August 1, 2021, after forty plus years in the medical profession, most of that as an Ear, Nose and Throat physician and surgeon, I officially retired. As many of you have noticed, over the past 18 months, I have not been actively practicing because of my own medical problems beyond my control. It is with mixed emotions that I made the decision to retire. It has been an honor for me to be your ENT physician and surgeon when it was necessary. It has always been humbling to me to be entrusted with the care of another human being. Thank you for your confidence in allowing me to be a part of your and your family's ENT care.
When I established South Valley Ear, Nose and Throat in 1983, I had great hopes and expectations, most of which have gratefully come to fruition. I leave South Valley in very good hands. Over the years I have been able to add excellent doctors to the clinic. Our doctors are able to cover all age groups and areas of Ear, Nose and Throat medicine and surgery. They can provide care for all general ENT problems, head and neck tumors, both benign and malignant, specialized care for sinus concerns, reconstructive and cosmetic surgery of the head and neck, full spectrum of allergy evaluation and treatment, comprehensive audiological evaluations and hearing aid assistance. We recently added Dr. Jonathan Hatch, an experienced, well-trained neurotologist to our practice which allows us to address routine and advanced ear concerns including all types of hearing loss and balance disorders.
We are now at three locations to better serve you and your families. Our offices are located in West Jordan at 3584 West 9000 South, suite 311, in Fort Union at 1225 E Fort Union Blvd. Ste. 120, and in Riverton at 4651 W 13400 S, Suite 120. Our contact number is (801) 566-8304.
If you feel you need some direction in your continued ENT care, you may contact me by emailing me at info@southvalleyent.com.
I will miss my association with all of my patients, especially the kids. They have had a special place in my heart over the years. It has been a remarkable period in my life and hope that if you have any ENT needs in the future, that you will look to South Valley Ear, Nose and Throat for your care. I am so grateful that I have had association with such wonderful people throughout my career. I wish all the best for you and your families.
With warmest regards,
Garner B. Meads, Jr. M.D.